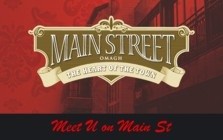 Mainstreet Omagh
The Challenge
Mainstreet is a trading group scheme located in the town of Omagh in Northern Ireland. It comprises venues such as themed pubs, eateries and a nightclub, which are especially popular on Friday and Saturday evenings.
Our Solution
Mainstreet were looking for a loyalty scheme to run throughout five of their venues within a single street in the town. With these venues being so busy at weekends, our system had to prove itself to be quick and robust enough to cope with the demand.
Mainstreet opted for printed vouchers in their loyalty scheme which, once issued, are valid right from this date. As all Mainstreet sites are financially linked, the vouchers can be redeemed at any venue, regardless of who issued them.
The initial install was limited to the eateries, but has since expanded to include extra terminals in Mainstreet's pubs and nightclub. Our systems have also needed to be hard-wearing and portable, to allow for them to be used at weather-dependent outdoor bars in the summer months.
The Impact
The scheme has been running successfully since July 2010, with the original terminals being exchanged for tablets in early 2014. By March 2015, over 200,000 transactions had been processed, and this has increased since, with £455,234.56 spent in the last 12 months alone. As technology prices have reduced over the years we have reduced our charges accordingly; Mainstreet now pay over 40% less for the service than they did originally.
Currently there are 7495 cards in circulation; they are registered direct via the Mainstreet website to which we have attached bespoke customised pages for this purpose, or on the tablet at the time of issue. For non-internet registrees, we provide customised forms on which the cards are attached. These forms are completed by hand by the registree, and entered onto the database by Mainstreet Staff.
Mainstreet also make use our web portal to inform the cardholders of upcoming events by email and by text. This has proven to be a very effective way of keeping local customers informed of upcoming events taking place at the venues.