EXPERTS IN COMMUNITY LOYALTY SYSTEMS

Improve footfall – Increase sales & profits – Understand customer behaviour- Retain customer relationships – Target loyal customers – GDPR compliant
Powerful, flexible and easy to use, our systems have been designed to revitalise the customer experience, whist also helping independent businesses compete with national chains and other high street destinations. As leaders in community loyalty schemes, our bespoke systems help encourage repeat spend and offer special features designed to benefit local community and retailers. The sophisticated and flexible systems can be tailored to meet specific business requirements.
Whether you are a retail park, a village, a town, a city, a business improvement district, a buying group or a group of like-minded innovative store owners – Loyalty Pro has the solution to help businesses like you compete with the nation chains and other high street retailers.
Our systems are flexible and tailored to you, whether you are interested in our Silver, Gold or Platinum package.
One card works across all participating retailers, allowing customers to accrue points with multiple retailers on one loyalty system. All points accrued will be help separate for each account meaning the rewards are only valid when a threshold is met with that individual retailer. Each retailer or trading group member can set their own level of discounts and rewards accordingly.
Our systems are the solution to incentivising people to shop local and keep the community thriving in the face of increasing competition.
CH2 Love Hoole Community Scheme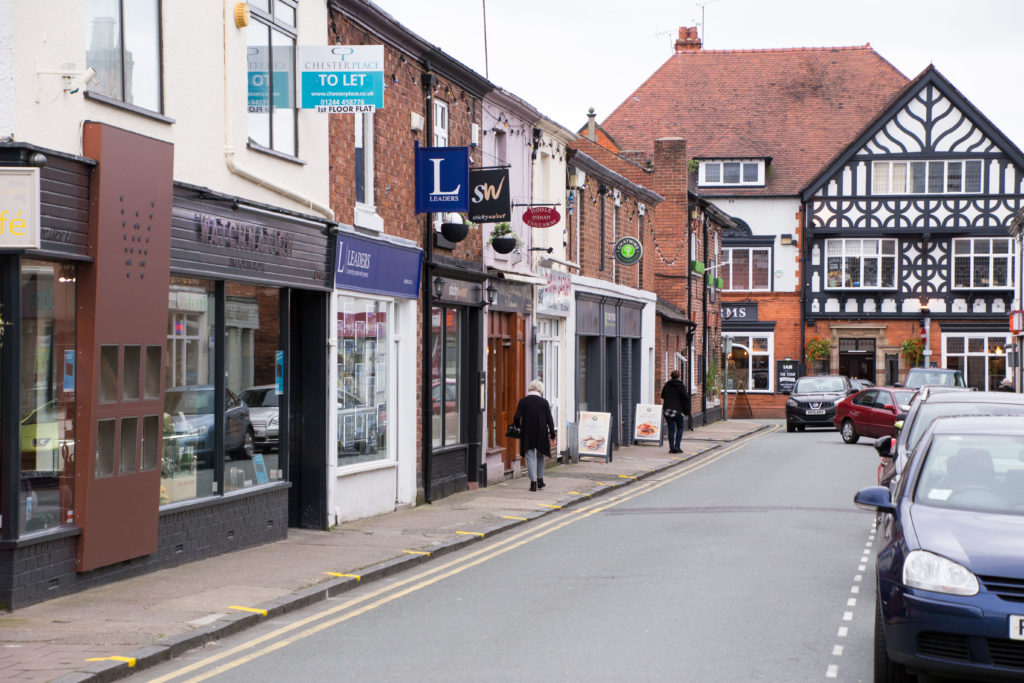 Hoole is a vibrant suburb of Chester incorporating an eclectic mix of mostly independent retailers, bars, restaurants and businesses.
The Challenge
The business owners of Hoole were in the process of founding a trader's association, Love Hoole, to represent most traders. The Love Hoole traders were interested in the idea of a loyalty scheme and were looking to develop something to encourage new and existing customers to continue shopping in the village. They wanted to create an exclusive, attractive and rewarding membership environment, in order to engage with customers and reward them for their loyalty.
The Solution
We worked with the trader's association to launch the Loyalty Pro reward scheme, which was marketed as "Love Hoole". A trial scheme was implemented with an initial 25 businesses in the area and more businesses continued to join. The community scheme is all about maintaining customer footfall and rewarding them for shopping local by providing them with a simple "one solution" scheme.
When a customer makes a purchase with any of the participating retailers their card or App is scanned, and they will be rewarded instantly with loyalty points. Loyalty points will accrue and when a threshold is met the customer will receive a voucher. The points are collated individually to each retailer allowing each business to set their own reward thresholds and voucher amounts.
To raise awareness, the Love Hoole scheme had branding created for leaflets, posters, stickers and social media advertising. Loyalty Pro ran a high-profile PR and radio campaign and created a specific site for Hoole customers to check participating venues, latest news, community events and monitor their reward points and redeemable vouchers. Loyalty Pro also created a website for the scheme for customers to view the participating stores, log into their accounts and register their cards. The website was also helpful for participating businesses to log in and send marketing messages to their customers through an online portal or for other businesses in the area to understand how the scheme operates and how to get involved.
In 2017 the Love Hoole app was created and launched on both the App Store and Google Play providing customers with a mobile platform to access their points, vouchers and details if they had forgotten their card. The app also displays a virtual map of all the participating businesses within the scheme. The app simply allows customers to either link their existing physical loyalty card or create a digital app-based card which can be scanned the same as a card when purchasing from any of the participating venues. After just 17 months the app has had over 400 downloads and proves to be a success within the community scheme.
Loyalty Pro also suggested the idea to include a Charity & Community element to the scheme, allowing customers to donate their points to their chosen charities or community centres. In addition to this, Love Hoole loyalty customers receive an email from Loyalty Pro every fortnight if they have opted into receiving marketing emails. The fortnightly emails include the latest promotions, advertising, news and offers from all participating traders – which can we exclusive to loyalty card holders incentivising them to return to spend with you.
The Impact
After 2 years of operation, the CH2 Love Hoole scheme has over 2500 registered cardholders and a marketing database of over 2000 cardholders. The loyalty scheme has processed over £819,000 in purchase value and has successfully raised generous donations to both Claire House Charity and The Hoole Community Centre.
Jessica Gore, owner of the women's designer clothing shop erj boutique, she rewards customers who sign up themselves on a tablet in her shop with a 5 gift voucher for every 100 points they save and has put through over 2500 Love Hoole purchases since she joined the scheme.
She said: "It's quite easy to spend £100 in the shop so we find customers reach the amount they need to receive a gift voucher fairly quickly. The scheme works well for us as our customers are excited to return to the store to spend their voucher and they typically spend more than the gift voucher amount."
"We also have a £10 birthday voucher that lasts two weeks which has been a great incentive to get customers back in and treat themselves."
"The Love Hoole loyalty card also works well when we have any new customers that are spending a large amount, even if they are not local to the area. When I explain the financial reward for joining, and if I can get them signed up to the card on that day, then in most cases they will return to the area in the near future – which is what the scheme is all about; driving more footfall and rewarding returning customers."
Love Hoole's 1000th registered loyalty cardholder commented "I regularly use loyalty cards and frequently shop in Hoole, so I am really pleased to see our local businesses coming together to offer one loyalty card for all."
For more information click here