GOLD PACKAGE
Our Gold loyalty package is for customers handling a higher number of transactions. This package is aimed at businesses who have a counter with space for a physical tablet on which new cards can be registered and where each loyalty transaction can be recorded.
Tablets can include marketing messages on rotating screens so you can up sell to your customers while they are waiting to pay.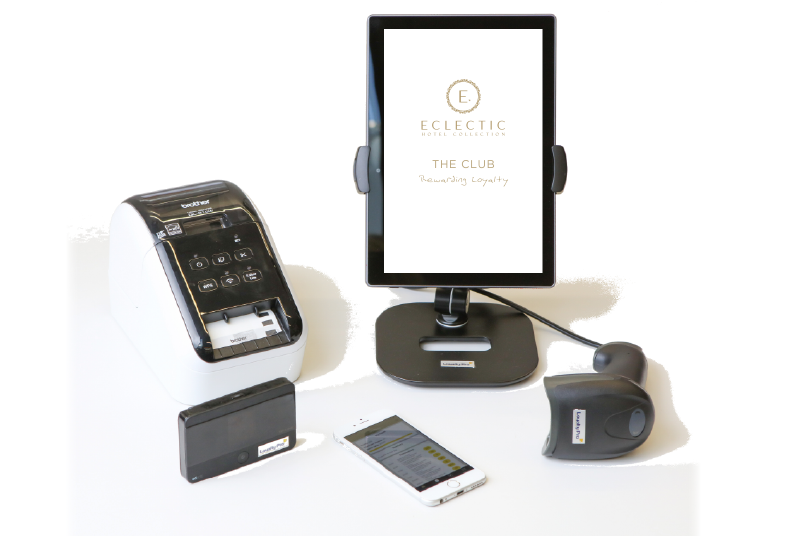 PRODUCT FEATURES
The following table gives you a comprehensive overview of the features provided by Tablet Lite.
SET UP (in addition to weekly base fee)
GOLD
Initial analysis and consultancy
Loyalty scheme advice and configuration
Equipment commissioning, rollout and project management
Remote installation and training (UK & ROW)
Marketing templates for email, text and/or app
Branded loyalty cards/fob to your exclusive design, proofing & production
Bespoke branded customer web registration interface
Bespoke app design, build & app store launches
Bespoke development/customisation
Data migration
Onsite installation and training (UK)
Tablet presentation screen design
SOFTWARE & HARDWARE
GOLD
Browser Lite (license)
Data & insight portal (license)
Marketing portal (license)
Classic 10″ tablet
Premium 10″ tablet
Optical card scanner
App hosting (Apple & Android)
Wireless voucher printer
DATA & REPORTING
GOLD
Data insight & analysis login via cloud based portal
Information and reports
Data storage and disaster recovery
Email bounce list handling
Customisation & handling of voucher redemption process
Monthly data migration
Database cleansing and maintenance
Anti fraud exceptions report
Marketing
GOLD
Cloud based marketing portal login for reports and comms
Email template topped and tailed with your branding
Welcome email to new registrees
Email and/or campaign per month to all loyalty members
Customer Texting Gateway (with own text name)
Remote update of the presentation screen
Database cleansing and maintenance
App notifications
Assistance with bounce backs from email campaigns
Design & production of loyalty supporting literature
Monthly marketig campaign assistance
SUPPORT
GOLD
Technical helpdesk with Freephone access (8:30am – 5:30pm weekdays)
Review call
Advice on campaigns, ROI and other loyalty scheme related issues
Next day courier swap out of any faulty equipment
Pro-Active tablet management
Tablet lock down to prevent unauthorised use
Remote tablet assistance
Tablet security
App support & updates
Unit support and tracking
Engineer visits
Unit operation monitoring and unit network maintenance
Loyalty card facilitation and distribution
Account management and customer billing
TERMS & CONDITIONS
GOLD
Contract Term
Payment method
Bespoke T's & C's
ADDITIONAL FEATURES
GOLD
Amazon processing
Birthday voucher module processing
Credit card linking
Cardholder prize draw processing
Charity module
Points for picture uploads
Surveys
Staff tracking
Personalised dashboard
Contactless NFC
4G provision where WiFi not present
Photo ID function
Latent tablet messages
CASE STUDIES
Check out how Loyalty Pro has helped a variety of businesses generate extra income via loyalty spend.
It's clear that combining millennials' love of technology with their affinity for loyalty schemes is something that businesses should take into account – indicating the clear importance of apps. According to Aruba, 66.3% of millennials indicate that they are more likely to shop from stores where they are part of a loyalty program. Coupled with the fact that 92% of millennials own smartphones, this creates a huge opportunity for businesses to utilise app technology effectively.